In today's market, business websites need to be supported with properly implemented Johnson City SEO strategies. To stay at the front of your target market and be successful your business need to ensure that its SEO is well planned and correctly executed. Whether your business is in Washington, Carter or Sullivan your SEO is key to ensuring your success. By not ranking well for Tennessee searchers, business is being lost.
Top search engine rankings are key to your business, and Rocket Booster Media has the SEO tools to help get you there. Our SEO research and planning acquires the information needed to properly optimize search engine optimization for your business helping to increase your positioning in search engines. Rocket Booster Media concentrates on vital parts that help get pages ranked. That includes page titles, main page headings, Meta keywords, link text, alternate text for images and more.
In addition, Rocket Booster Media also offers SEO linking operations with analysis. In doing so you will be able to understand the keywords matter when trying to position yourself at the top through SEO. By teaming with us, you will receive the top search engine optimization in Tennessee.
Free Johnson City SEO Evaluation
As part of your free assessment, one of Rocket Booster Media's Marketing Specialists will evaluate your current marketing, social media and website to provide you a report that shows where your business currently stands and where it can improve.
If you'd like this Free SEO Evaluation, please give us a call at 866.491.8285 or fill out the form on the right-hand side of this page.
There's no risk, no obligation, and no credit card required.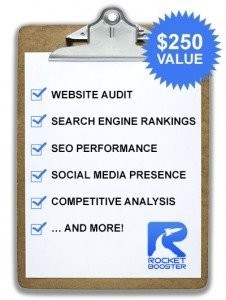 Rocket Booster Media is located in Johnson City, Tennessee. We understand the challenges you face when it comes to getting your business recognized amongst your competition. By offering our SEO services to Washington, Carter or Sullivan and anywhere in between we can help your business grow. Regardless of where you may be our team at Rocket Booster Media has the experience, knowledge, and desire to get the job done for you. Our SEO plan is thorough and comprehensive and will ensure the best results for your business. So regardless if you work just in Tennessee or worldwide, Rocket Booster Media is ready to work for you making sure we not only meet but exceed your goals!
Johnson City, Tennessee Office
3101 W Market St, Suite 109
Johnson City, Tennessee 37604
Toll-Free: 866.491.8285
Rocket Booster Media is a full-service digital agency propelling business success. We create compelling marketing strategies using the newest technology and forward-thinking techniques to increase your return on investment. We have an all-inclusive approach to your marketing strategy. Beginning with your website design, branding, print, and graphic design as well as your search engine optimization, social media marketing, web, and viral videos. At Rocket Booster Media our strategic goal is to help your business grow and increase revenue. Whether a startup, small business or a Fortune 500 company we have the talent and expertise to propel your business success.
Johnson City SEO